OIL FLUES – Should be cleaned yearly to remove the by-products of combustion,
which build on the liner walls and has a corrosive affect on the flue liner.
Cleaning also prevents the dangerous back-puff and carbon monoxide poisoning.
National Fire Protection Association recommends cleaning and inspecting yearly.
GAS FLUES – We recommend a yearly inspection and cleaning if necessary.
Chimneys converted from oil to gas need cleaning and inspection yearly.
These chimneys are in the flaking stage from the previous use of oil.
FIREPLACES – Should be cleaned and inspected yearly to prevent chimney fires
and smoking problems. If your fireplace is used, it needs cleaning and inspection yearly.
DRYER VENTS – Should be cleaned yearly to prevent dryer vent fires.
Dryer vent runs over 15 feet may need cleaning two times per year
to keep them safe. Some vents need more frequent cleanings, depending on use
and/or run. We also install new vent systems and inspect your present system.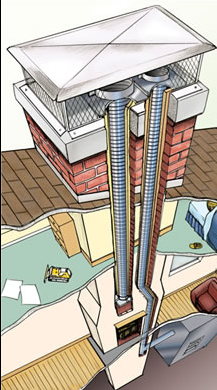 PROVIDING PROFESSIONAL SERVICES FOR OVER 35 YEARS
ALL WORK DONE TO NATIONAL FIRE PROTECTION ASSOCIATION SPECIFICATIONS
Locust Valley, New York
Member of the N.Y. State Chimney Sweep Guild
Certified by Energy Alternatives Institute